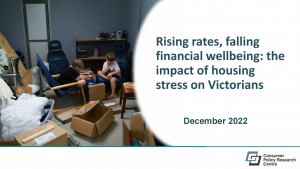 This reports explores the cost of living and financial wellbeing during 2022, with a particular focus on renters and mortgaged homeowners given the rapid rise in interest rates.
•  One in seven (15%) mortgaged homeowners reported an increase of more than $700 per month
•  Just under half of renters (48%) reported their rent had increased in the 12 months to November 2022, suggesting widespread rent rises to come in 2023.
•  Half of renters (53%) and two in five (41%) of mortgaged homeowners reported they couldn't raise more than $2000 at short notice if faced with a large unexpected financial cost.
Our findings indicate financial stress is already building – with a cohort of mortgaged homeowners and renters going without delaying meals, medicine and medical care. For those experiencing feeling the cost-of-living crunch:
•  If you have a mortgage, speak to your bank about hardship options as early as you can. •  Anyone struggling can also get help from a free and independent financial counsellor.